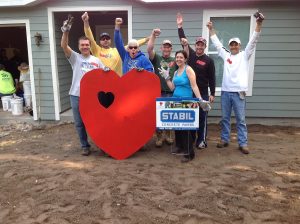 The number of houses we build each year depends on the money we raise, and our partnerships are critical to helping us close the gap for hard-working families across Sarasota. We partner with businesses, faith-based groups, community organizations, and partner families to build brighter futures for local families and help them attain the dream of homeownership. We build homes year round and there are many of sponsorship levels to choose from.
Forming a partnership with Habitat Sarasota means everyone wins — your business/organization and the families who are able to build and purchase a Habitat house through your generosity.
Because Habitat is a 501(c)(3) organization, all gifts of cash, assets, or materials are fully tax deductible. Your business or organization will also have the satisfaction of knowing that you have made a positive difference within the community.
Habitat Sarasota has customized partnerships that allow corporations of all sizes to give back to our community by supporting affordable housing. Partnering with Habitat is an excellent way for a business to promote its corporate social responsibility goals while making a lasting impact. We offer a variety of outlets for giving, and businesses and their employees can participate in helping to build safe, affordable homes while strengthening our own community.
Employee volunteer build days
Cause marketing campaigns
Product donations
Financial support
Grants and awards programs
Want to learn more?
Habitat for Humanity Sarasota, Inc. is designated exempt from federal income tax under Section 501(c)(3) of the Internal Revenue Code. No goods or services have been provided as a result of your contribution rendering your gift completely tax-deductible. Habitat Sarasota's tax identification number is 59-2495597 and Florida Registration number is CH5684. A copy of the official registration and financial information may be obtained from the Division of Consumer Services by calling toll-free within the state. Registration does not imply endorsement, approval, or recommendation by the state. FDACS's toll-free number is 1-800-HELP-FLA (435-7352). The FDACS website is www.800helpfla.com.