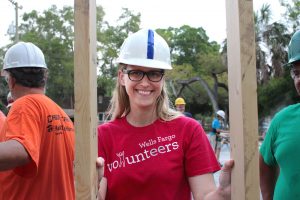 Every year, Habitat for Humanity Sarasota relies on more than 800 volunteers to support our mission. Volunteers help keep the homes affordable for qualified homebuyers. It is our goal to help you find the volunteer assignment that best suits your skills, interests, and schedule.
Volunteer on the construction of a new home or help with a home renovation. A half-day commitment (7:30 am – 12:00 pm) is required and we build on Tuesday, Thursday, and Saturday each week. Weekday volunteers are our greatest need. Must be at least 16 years old to volunteer on a build site.
I'm over the age of 16, how do I get started?
CLICK HERE to register as a volunteer and a new page will open and take you to our VolunteerHub site
Click "sign in" on the top right corner
If you don't already have an account, click "create an account"
---
For additional details:
Volunteer Services
1757 N. East Avenue  |  Sarasota, FL 34234
Telephone: (941) 365-0700  |  E-mail: volunteer@habitatsrq.org