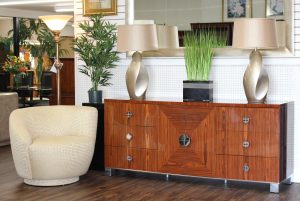 The Habitat for Humanity Sarasota ReStore sells a variety of gently-used merchandise including building materials; flooring; lighting fixtures; furniture; appliances; artwork; tools and hardware; plumbing supplies and lawn and garden items. It is the perfect place to find a replacement item that may need a "vintage" touch. We also carry new items donated by store overstocks, builders, and the community. Our Sarasota ReStore encompasses more than 42,000 square feet of donated items that are sold to the public at affordable prices to support the agency's mission.
Testimonial:
"Congratulations on a well job done. My husband and I are new to Sarasota. We just moved here from Ohio. We made a purchase at your Restore in Sarasota. I must say we were most impressed with not only the quality of items that were for sale, but most importantly the staff and their hospitality. It was amazing! Each, from sales associates to those that loaded our purchase were professional, cordial and shared the mission of Habitat." – Jeanne P.
DONATE
Donations of gently used items are always welcome and are tax-deductible. Schedule a free pickup for large, bulky donations at (941) 363-0777. Our truck drivers are happy to pick up your larger donations that may be too heavy for you to lift, or those that don't fit in your car. For smaller items, please stop at the 17th Street ReStore location for easy, drop off between 10:00 am and 4:30 pm. We have a friendly staff that will accept your items without you leaving the comfort of your car.
DROP OFF LOCATION
2095 17th Street, Sarasota, FL 34234 (Corner of 17th Street/East Avenue)
Monday-Saturday 10:00 am – 4:30 pm. Closed Sunday