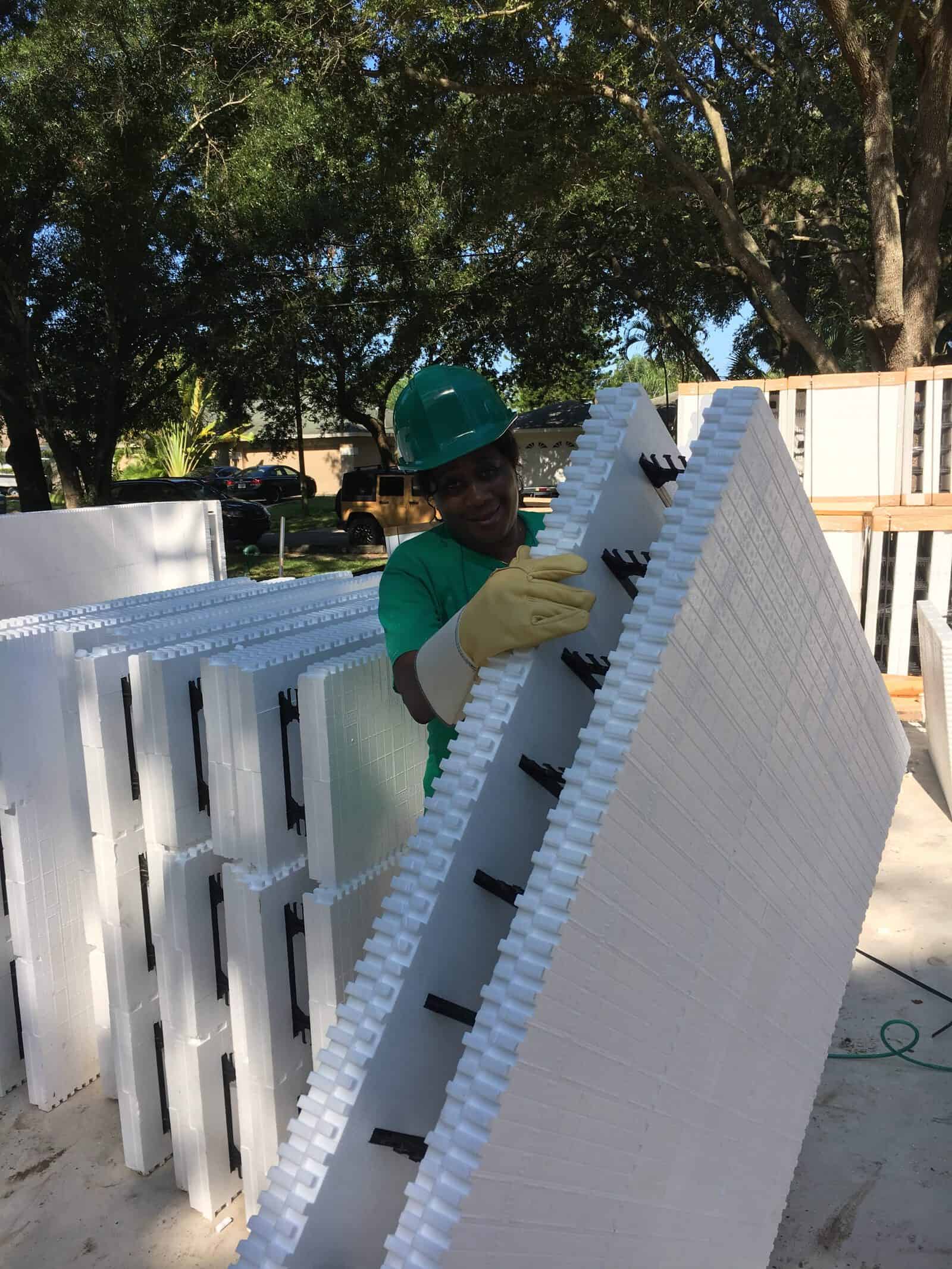 Have you driven by the latest Habitat Sarasota build site at 2537 Wells Ave lately? Did you notice something different about the construction? Instead of wood-frame construction that we have used since we started building homes back in 1985, you may have been surprised by walls being built with what resembles a white foam block.
Habitat Sarasota has joined a growing number of other Habitat affiliates utilizing an innovative construction product called Insulating Concrete Forms (ICFs).
ICF is comprised of dense expanded polystyrene (EPS) foam which is an excellent insulator. The foam blocks are stacked to form the exterior walls which are reinforced with steel rebar, braced, and then filled with concrete. Habitat volunteers then finish the walls with a fiber cement siding and backerboard, commonly known as HardiePlank®. This new construction method has tangible benefits.
Volunteer friendly
Every year, more than 800 volunteers contribute more than 17,000 hours on our build sites. Habitat welcomes volunteers of all skill levels. In fact, most of our volunteers have little to no construction experience.
In the past, most of the Habitat Sarasota homes have been built with wood frame construction covered with HardiePlank®. Volunteers are certainly capable of framing exterior walls, but it is hard work and labor intensive. Because ICFs are lightweight and easily stacked together, with a small amount of training, just about anyone can build with minimal help.
Homeowner benefits
It's important to Habitat Sarasota that our homes are energy efficient. We want our homeowners to move into a home with an affordable mortgage and utility bills they can afford to pay. According to the manufacturer of the ICF foam block, houses built with ICF exterior walls reduce the energy required to cool the home by 32% when compared to a frame house.
The reinforced concrete walls are very strong and reduce exterior noise from traveling inside the home. These homes are wind, fire, tornado and most importantly to residents of Florida, hurricane safe.
Habitat Sarasota is excited to take what we have learned from using ICF at this home and will be applying it to more builds in the future. Our plan is to use ICF construction for the homes we will build in Hammock Place.