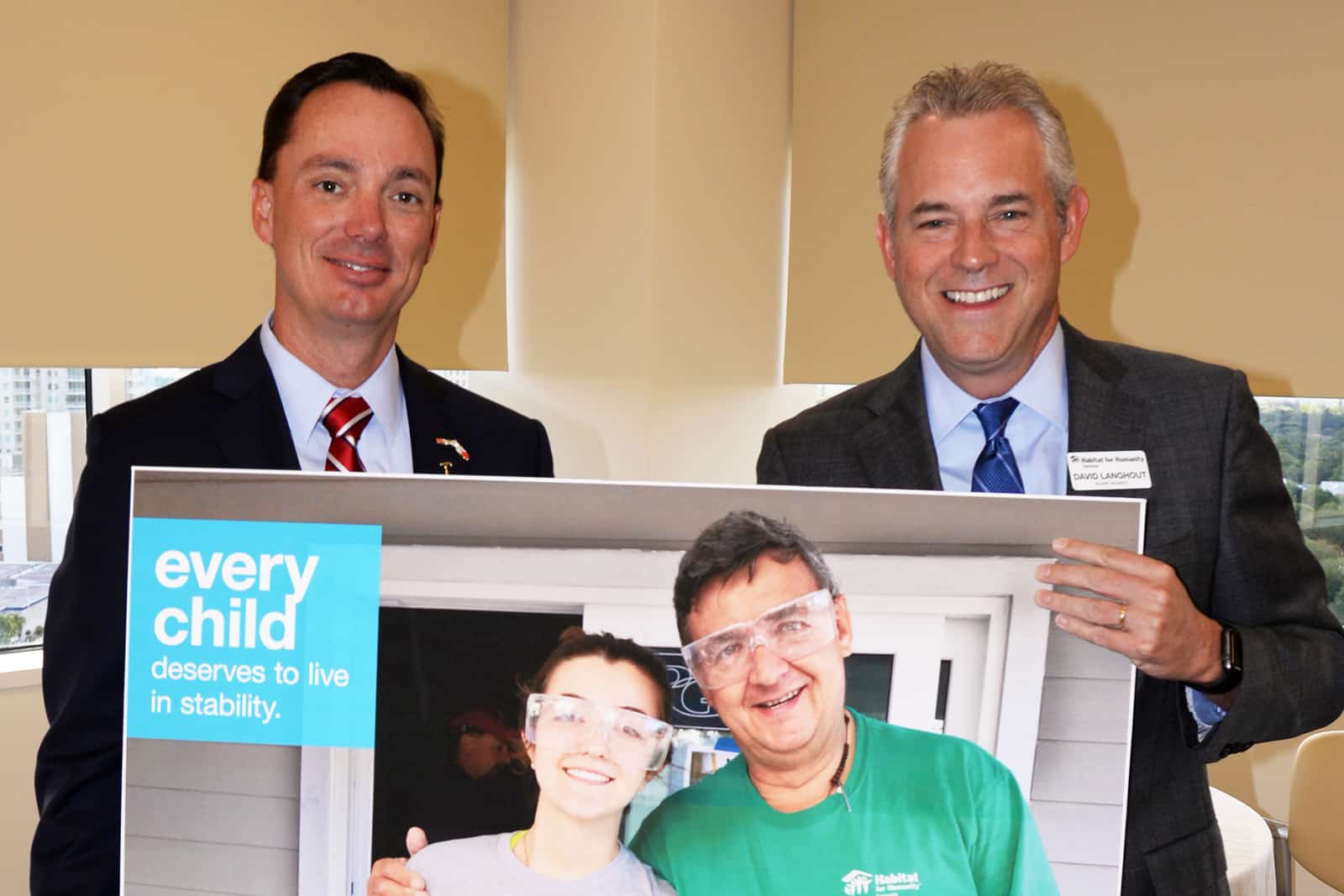 Habitat Sarasota announced the 2019 Board of Directors during our Fellowship Breakfast and Annual Meeting held on January 25.
The Executive Committee members, effective January 1, 2019 are:
Chair – John R. Peshkin, founder and principal at Vanguard Land, a private real estate investment group, continues his term as board chair. Peshkin has served on Habitat Sarasota's board of directors since 2010 and has been our champion for Hammock Place.
Vice Chair – Dave Langhout, vice president of Kolter Homes
Secretary – Tommy Gregory, an attorney with Williams Parker and member of the Florida House of Representatives
Treasurer – Brian Watson, director of finance at Vanguard Land
Habitat Sarasota elected one new member to the board:
Justin Powell is the Vice President of Palmer Ranch Holdings, Ltd., a real estate investment firm based in Sarasota. Prior to Palmer Ranch, Powell worked for Franklin Templeton Investments in St. Petersburg and HealthTrust LLC, in Sarasota as Commercial Real Estate Appraiser. Powell has served on the Boards of Green Connection US, Sarasota County Environmental Task Force, Forty Carrots Family Center, and Sarasota Springfest. He currently serves on the Sarasota County Board of Zoning Appeals.
Continuing in their roles on the Board of Directors are the following members:
Renee Snyder, president and CEO, Habitat Sarasota

Michael Bruno, Michael Saunders & Co
Michelle Crabtree, Premier Sotheby's International Realty
Bonnie Dezii, insurance professional
Jody Garris, TIAA Bank
Lynn Kisser, retail consultant
Alan Maio, Sarasota County Commissioner
Jennifer Poppen, Wells Fargo
Stephen Sutter, Sutter Roofing
Carl Watkins, Allegiant Private Advisors
Stephen Wilbur, Stirling and Wilbur Engineering Group
We said goodbye to two long-standing board members whose contributions will be missed:
Jeff Grebe of the Williams Parker law firm served Habitat for six years and is the outgoing secretary and Governance Chair. Sherry Edwards of the Edwards Law Firm served Habitat for seven years and is the outgoing Treasurer. We wish both Jeff and Sherry well and appreciate their longstanding meaningful contributions to Habitat Sarasota.